Dynam, Weike machine targets mass market: exec
4/07/2019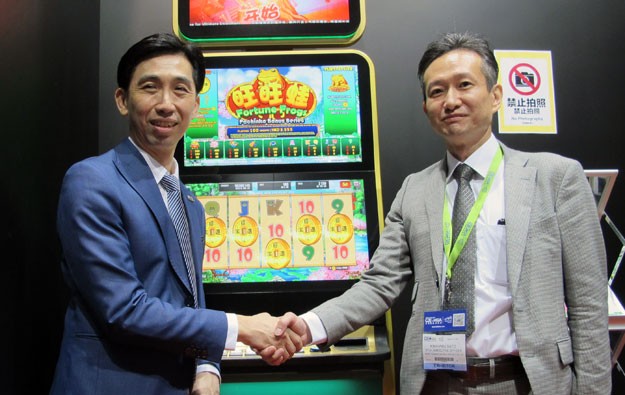 A casino slot game product containing "pachinko elements" is targeted at the mass-market segment in Asia, says an executive with one of the companies responsible for the development of the new game. The new product uses software from Hong Kong-listed Dynam Japan Holdings Co Ltd, with hardware from Singapore-based casino equipment supplier Weike Gaming Technology (S) Pte Ltd.
The new product – branded DynamicW – is to be first released in the Macau market, with other jurisdictions following soon after, said Daven Tay (pictured, left), Weike's executive director, in comments to GGRAsia on the first day of Global Gaming Expo (G2E) Asia 2019 at the Venetian Macao.
"Our first target market is Macau, and our first game has already been approved" by the Macau gaming regulator, said Mr Tay. The new game – called "Fortune Frogs" – is part of a pachinko bonus series that is being developed under an agreement between Dynam Japan and Weike.
A second game of the series – dubbed "Mid-Autumn Festival" – has already been submitted to Macau's Gaming Inspection and Coordination Bureau, a body also known as DICJ, for approval, said Mr Tay. The game has been deemed compliant with Macau's electronic gaming machine technical standards by gaming equipment testing service BMM International LLC, a group known as BMM Testlabs, he added.
"We are now talking with all the big operators in Macau. But we plan to launch the product with a bundle of games, and we are now developing a third new game, which will complete this [pachinko bonus] series," stated the Weike executive.
"The priority will be to launch it [the product] later this year with a bundle of games. Somewhere in October or early November," said Mr Tay, adding that the partners are planning to launch the product in other "well regulated markets, such as the Philippines and Singapore".
The Fortune Frogs game is featured in Weike's Emperor cabinet. The game includes a pachinko bonus feature that is triggered when at least three special symbols appear on reels one to five. The game also displays the average expenditure per hour – excluding bonus feature wins – in order to disclose more information to its users, a practice common on pachinko machines, noted Mr Tay.
Dynam Japan – represented at G2E Asia by one of its executive directors, Kimiharu Sato (pictured, right) – runs a number of pachinko parlours in Japan, a vertical pinball game very popular among Japanese.
Fortune Frogs "is a very different concept and theme, even in the graphics it displays," explained Mr Tay. "We are targeting the mass market, just like the pachinko game itself is marketed in Japan."
The executive said the cooperation with Dynam Japan was also a move eyeing Japan's nascent casino industry. Japan's national government is due this summer to announce national public policy criteria for evaluating bids for development of casino resorts in the country. Only a maximum of three casino resort licences will be permitted in the first phase of casino liberalisation in that country.
According to Mr Tay, Dynam Japan is very familiar with electronic gaming, namely via pachinko. Study of that Japanese domestic market has helped the partners bringing to market these new casino products to understand the kinds of themes, symbols, music and game math that are appealing to Japanese players. "It makes sense for us to cooperate, not only to explore fresh opportunities in existing regulated markets, but also looking at the future Japanese market," stated the executive.
————————————
Sources: ggrasia.com on May 21,2019