Weike launches first large-scale virtual ETG product
10/07/2018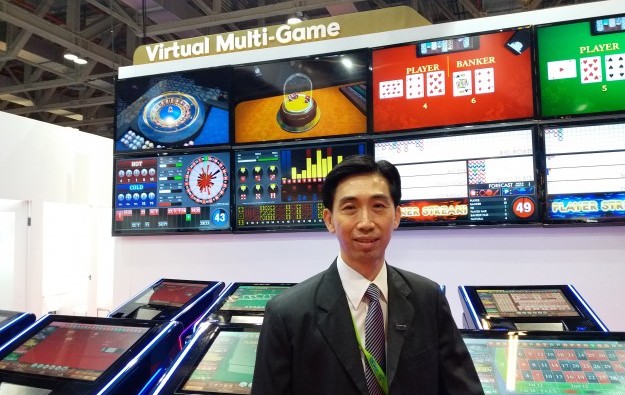 Electronic casino games specialist Weike Gaming Technology (S) Pte Ltd – an early promoter of automated casino electronic table games (ETGs) as a way for operators to manage running costs – is staying true to its roots by launching on Tuesday the firm's first large-scale virtual product in the category.
Virtual Multi-Game is configured to accommodate as many as 100 player terminals in a single installation. Game decisions – from either the roulette wheel, sic bo plate or baccarat table – are displayed in virtual form to the players.
"It is a pure electronic product that comes with roulette, sic bo and also baccarat. This is our first big-scale ETG product," Daven Tay (pictured), Weike's executive director, told GGRAsia on the first day of Global Gaming Exp (G2E) Asia 2018 at the Venetian Macao.
Mr Tay said of the product: "We are targeting launch in Macau in the fourth quarter. In Singapore, we are targeting the second quarter of next year."
The Weike executive added: "Virtual is the future and most cost effective… to cut down need for live dealers."
He further noted: "With a pure electronic game you can trace all the processes… The game results, they can be easily audited. Weike has always promoted electronic and virtual."
Weike also has a fully-automated single-table METG product. METG stands for "Multi-Player Electronic Table Game". While it looks at first glance like a standard live-game table, the fully-automated version offers features including patented "card peeping" technology, to mimic the way baccarat players in Asia like to preview part of their hand. It also has a bills-in port for buy-in at the table.
Vietnam clubs market
There is also a "METG Real Cards Virtual Chips" product that can accommodate an attendant dealing real cards and virtual chips. The product range is based on a modular design to facilitate maintenance.
"Almost every club operator in Vietnam has our METG product," said Mr Tay.
Mr Tay explained that in Vietnam many operators have conditions attached to their licence that may limit the amount of game inventory they can have.
'Also, the product covers only a small footprint on floor, so can be easily accommodated," he added.
Also at this year's show, Weike's slot offering has a focus on standalone product – but that all can be linked to a mystery jackpot. There are five game titles offered via the firm's Emperor cabinet. They are: "Dolphin Royale", "Pirates Gold", "Rooster of Fortune", "Fortune Buddies" and "Bags of Blessing". Weike is also displaying at G2E Asia 2018 a continuation of its progressive-play style, "Super Monkey King" slot product range. This year it is launching five game titles: "Princess Musketeers", "Party Fiesta", "Fruits Immortal", "Fortuna Five" and "Prince Nezha".
Weike is also at G2E Asia 2018 launching a new slot floor management system called "TAPP System", in collaboration with another company.
"The design is based on the workflow of the slot floor," stated Mr Tay.
"It's an even more user-friendly way of managing a slot floor. It's a very different approach from what is used in most of the market. It gives control to the floor staff as to how they want to manage things," he explained.
—————————————————
Sources: GGRAsia.com on May 17, 2018